Conference tours
During the conference, the participants will be offered tours in Baku museums.
Additionally, the programme will include three options for post-conference tours:
– Absheron (Mardakan Castle, Atashgah Fire temple, Yanardag/Burning Mountain);
Sights inscribed on UNESCO World Heritage List:
– Gobustan National Historical-Artistic Preserve, which is famous for the ancient rock drawings;
– Sheki, the ancient city of handicrafts (Caravanserai, Khan's Palace).
Discover Azerbaijan – A Land of Fire!
Do you wish to see a new land at the doorstep of Europe and experience a totally different culture? The conference is a good chance to visit Azerbaijan as a new travel destination!
Azerbaijan is a country located in the South Caucasus region, at the crossroads of Asia and Europe. The country is famous for its ancient and rich history with a landscape containing details from every period of time. Traces of numerous cultures such as the Mesopotamian, Scythians and Medes can be found, and many other cultural influences brought from both East and West have left their mark.
Azerbaijan is also called the 'Land of Fire'. There are several beliefs about the origin of this nickname. According to certain historians, it comes from the ancient religion of Zoroastrianism practiced in the region and its Fire as a symbol of God's wisdom. Near Baku, there is the Ateshgah fire-worshipping temple dating from the 17th century. However, other people argue that the country is called the 'Land of Fire' due to the landscape. For example the Yanardag Mountain near Baku, produces a flame of constantly burning natural gas that creates an incredible spectacle.
Ateshgah – Fire Temple
Azerbaijan is the country which is being increasingly modernized. The mixture and harmony of antiquity and modernity create an unforgettable journey. In recent years, Baku has become an important venue for international sporting and cultural events. It hosted the 57th Eurovision Song Contest in 2012, the 2015 European Games, 4th Islamic Solidarity Games, and hosted the final of the 2018–19 UEFA Europe League. Since 2016 Azerbaijan has also hosted four of the races on the Formula 1 circuit.
Baku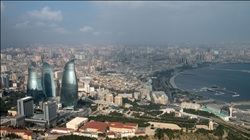 Baku, the capital of Azerbaijan, also known as the `City of Winds', is the largest commercial, cultural and scientific center in the Caucasus region, and the largest port on the Caspian Sea. As the cultural center of Azerbaijan, Baku is home to about 30 museums that preserve the country's national culture and identity.
In Baku, one can visit many interesting museums – the National Museum of History of Azerbaijan, Azerbaijan National Carpet Museum, National Art Museum of Azerbaijan, Heydar Aliyev Center, Icherisheher Museum Center, and Baku Museum of Miniature Books, which is the world's only museum of miniature books located in the old part of Baku.
The ancient architectural sites in Baku – Walled City of Baku with the Shirvanshah's Palace and Maiden Tower have also been inscribed on UNESCO World Heritage List.
Shirvanshahs' Palace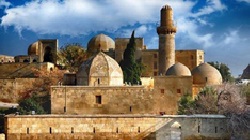 Maiden Tower